Sophisticated C 1885 Petite German Terrestrial Globe by Julius Heyman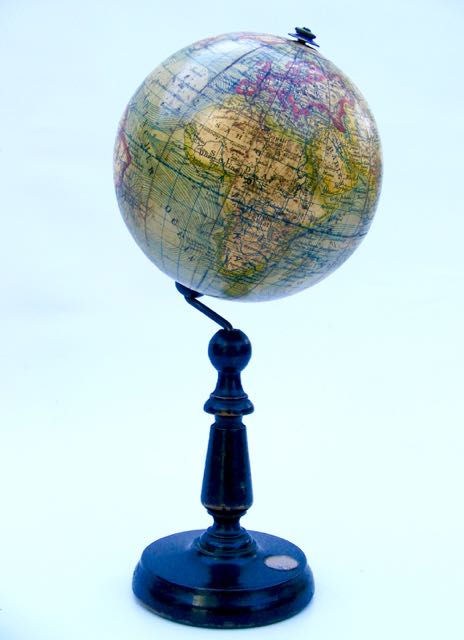 Sophisticated C 1885 Petite German Terrestrial Globe by Julius Heyman
A fine example of exquisite craftsmanship and well preserved coloring, this artifact is a magnificent piece of history. Splendid attention to detail by the globe maker is evident throughout the map, allowing one to view the world as it were during the 19thcentury. An era of discovery, conquer and exploration.
Petite in size yet grand in history, this elegant masterpiece is for the most discerning history aficionado, sharing its world of past Imperial Empires one can only read of today.
SKU: 1015HEYM85
More Information
This fine artifact is more than just a decorative master piece, it is an individual piece of history. Depicting Empires of the past, one can view Austro Hungaria, the Russian, German, Ottoman Empire and more. Norway and Sweden are shown as a Union while the first German colony in Africa has been established (1884/85) as has Congo Free State. It is the beginning of an era in which Empires forcefully compete to establish colonies throughout the African continent, seeking riches and land.
The mounting of this handsome piece shows fine artistic skill, consisting of an elegant baluster turned and ebonized base with embedded and functional compass.
About the Globemaker
Ludwig Julius Heymann was an active Globe maker in Berlin, Germany from c 1860 to 1903. With the growth of his company Heymann expanded his globe manufacturing to a second location, the city of Leipzig. By then the expansive array of Heymann terrestrial spheres was produced in many different languages and a wide variety of mounts, from simplistic student globes to ornate figurines and clock mounted pieces.
Eventually Heymann employed Henry Lange, who was known for his exceptionally detailed mapping skills, having been trained as a student at Brockhaus (of Leipzig). Heymann globes are superb in quality and highly appreciated as they displayed early on significant details such as the Great Wall of China and the up keep of explorations to the North and South Pole. Heymannn Globes are considered Crown Jewels of sophisticated Globe collections.
Description:
The 3.5inch diameter orb consists of 12 individual, hand applied paper gores and two polar calottes mounted over a plaster and pasteboard orb. Delicately engraved map details include ocean currents, mountain ranges, rivers and more. All language is in German.
Mounted onto an elegant baluster turned and ebonized fruitwood base with incorporates a functional compass. Total height is about 7 inches.
Condition:
Exceptionally well preserved artifact, details are crisp and colors rich. Scuffing throughout though no loss of paper. Minimal wear in form of rubbing or soiling. Base is also very well preserved, no cracks or splits. Compass is functional.
Domestic shipping is $ 19.00; international (most countries) $39.00
$645 SKU#1015HEYM85