Buying Trip to Tokyo, Japan
Tokyo: December 2018
For the second time in 2018, I was lucky enough to spend two weekends hitting my favorite shops and markets in Japan. It was a brilliant way to end another year of travels. I'll walk you through where I shopped, what I saw, and what I was able to buy!
MACHIDA TENMANGU ANTIQUES FLEA MARKET
I arrived on a Friday evening, got settled and started early on Saturday by heading out to the outskirts of town to a market I had never been to before. The Machida Tenmangu Antiques Flea Market is only held on the 1st day of each month, which happened to fall on a Saturday. The market isn't huge, but it isn't small either; with around 45-50 vendors set up on any given day. Using a combination of metro and local trains, my journey from the Ueno neighborhood took approximately 1.5 hours. I left around 5:45 to be sure to get there as close to the 7am start time as possible. Vendors were still sitting up until almost 8am.
At first, I didn't see a lot that I wanted to buy (or felt was a good value) until I dug deeper into a vendor selling Japanese textiles. This was one of the categories I had decided I was really wanting to focus on for this trip and so after he broke out his better pieces I purchased a sashiko (a style of Japanese stitching) blanket and a boro (scraps of old indigo dyed denim and cotton fabric) quilt. We bartered back and forth on his busted ipad and after the transaction was completed he then tried his best to explain to me that his son also sells at markets and would be set up the following morning in central Tokyo and gave me his instagram account. Its amazing how much information can be shared with limited words and pantomime!
I made one or two more loops and ended up buying a handful of smalls; a maekake apron, a Japanese flag, a small bottle of whiskey, and a few vintage Asahi beer openers.
The market, overall, was of very good quality. I met a few expats who lived nearby and they said it was their favorite market in the region. I was hoping for lower prices since it was so far from the center of the city, but as I'd later discover, most of the vendors sell at multiple markets in Tokyo so prices were pretty consistent.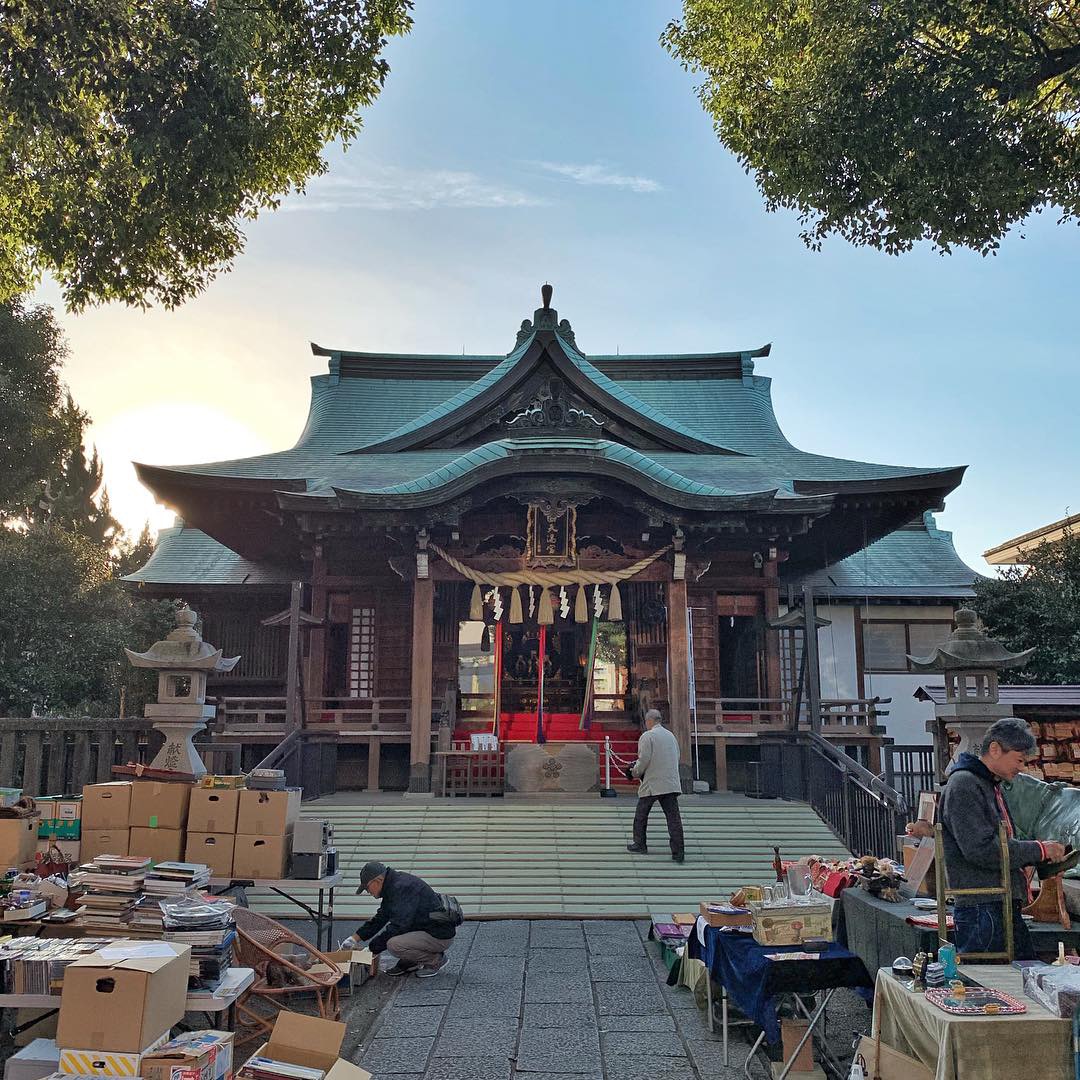 OHI RACETRACK FLEA MARKET
The second stop of the day was on the opposite side of Tokyo. To get there I used a combination of local trains, metro and a monorail! The Tokyo City Flea Market (also called Ohi Racetrack Flea Market) is held in the parking lot of a large horse racing stadium in southeast Tokyo and has a very different feel to it than any of the other markets I've been to in Japan. It truly is a flea market and not an antiques market. That's not to say that you cant find some great pieces here, it just means that there will be a wider range of quality. Several food trucks also regularly set up and serve all day. The market is open on Saturday and Sunday of every weekend but this was my first visit on a Saturday. If you can only make one day, I'd recommend going on a Sunday. There was a noticeable decline in vendors on this day despite the gorgeous weather.
I had no other stops planned for the day, so I made several slow laps around the complex. On a busy day there might be up to 600 vendors set up in covered parking spaces, but on this day it was probably only half of the number. Many of them simply sell out of the back of the cair or with everything piled on a tarp. You'll find piles of clothing, miscellaneous home goods, Japanese militaria, textiles, old photographs, weapons, toys, and everything in between. On this day, I left with a pile of smalls and nothing more; vintage tins, daruma dolls, a hollowed out baseball bat, and some more beer openers.
On one of my last laps I bumped into a British expat who solved a mystery for me. In the furthest section from the main gates, there are often large box trucks that show up late in the day and huge crowds immediately start clamoring over one another for the best finds. Almost everything is still boxed up and the whole place is a free for all. Turns out these are essentially "estate sales" and most items are priced at 100 yen (roughly $1). While there are days that the trucks are filled with antiques this time, unfortunately, they were mainly filled with modern kitchen wares and home goods.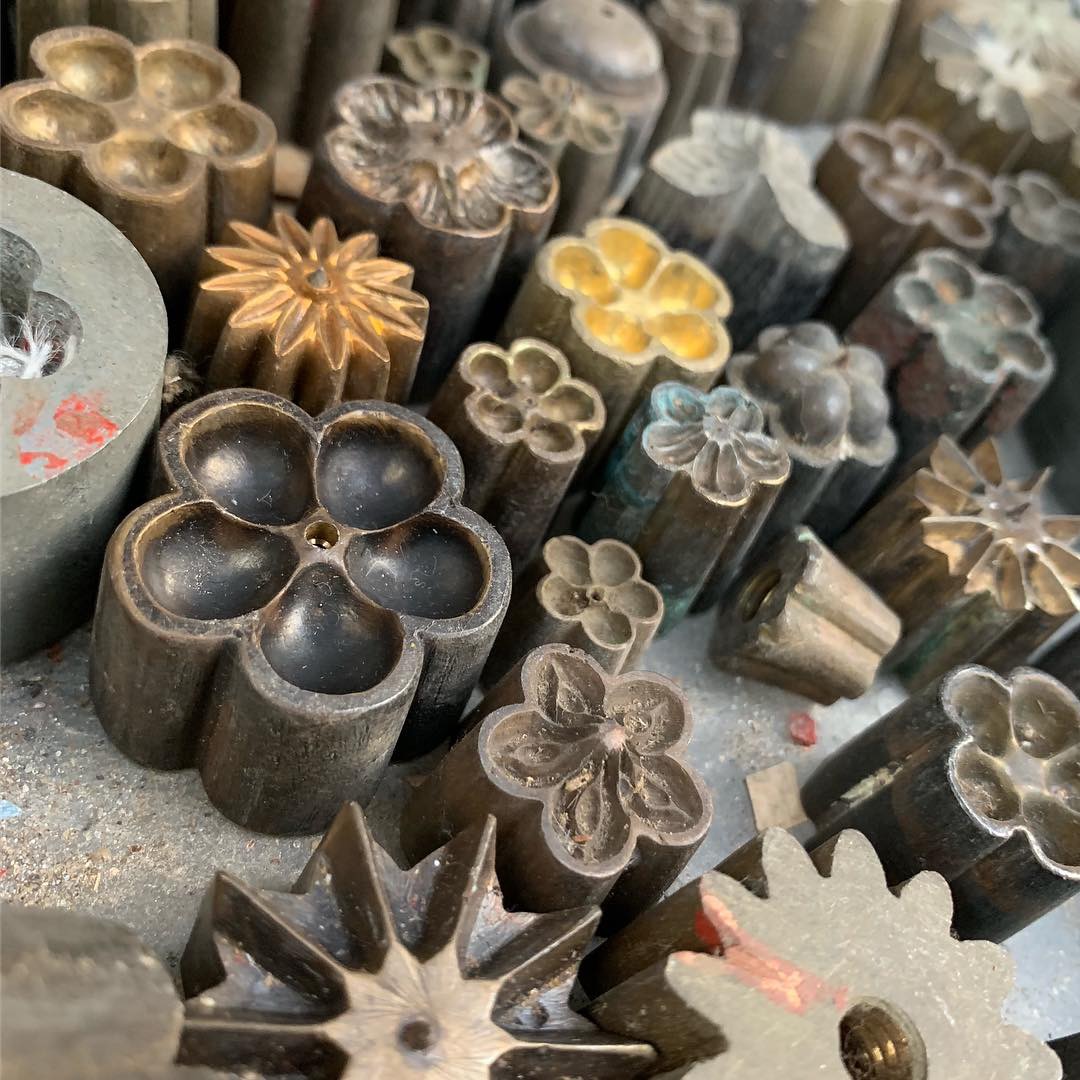 TOMIOKA HACHIMANGU ANTIQUE MARKET
I had 4 or 5 markets identified for Sunday but ended up deciding to visit only 3 based on location and travel times between stops. First market of the day was the Antique Market at Tomioka Hachimangu Shrine. It was an easy trip from my hotel in Ueno District taking no more than 25 minutes on the train and another 10 minutes on foot. I attended the market in the spring but arrived at the end of the day but somehow still managed to buy a boatload of amazing pieces. This time, my expectations were high but I arrived almost too early and most of the vendors were still unpacking and setting up their stalls. The first stall I rummaged through specialized in paper ephemera but the prices were sky high so I left empty handed. Almost immediately I ran across a gorgeous hand painted nobori banner showing two samurai warriors and managed to negotiate a very good price in my best broken Japanese. The temperature had dropped noticeably from the day before and many of the vendors setting up were the same as from the Machida Market so I was feeling rather dejected. But that's when I ran into a familiar face; my boro dealer from the day before. He smiled and waved me over and excitedly fawned over my banner before helping me unfurl it. I took another look in his bags and walked away with another sashiko quilt, an indigo sheet, and a handful of placemats made from boro. He reiterated that his son would be selling in the center of town and assured him that I would look for him as that was my next stop.
Tomioka Market turned out to not be nearly as fruitful as in the spring, but it still had one more surprise in store. As I sorted through the stall closest to the entrance I was approached by the vendor who asked if I was a tourist, to which I found rather amusing as I was the only foreigner at the market. After confirming that I was a tourist he ran over to a van parked on the street and a TV producer came over to ask me if I would agree to an interview for a show called Cool Japan! They were genuinely shocked to find out that I had traveled to Japan specifically to shop the flea markets. They filmed my finds and interviewed me for a few minutes. The episode has aired but I still haven't found a way to watch it yet; not sure I made the final cut.
oedo ANTIQUE MARKET
Second stop of the day was at the centrally located Oedo Antique Market. Not my favorite setting or market. Unlike most of the older markets in Tokyo, this one is held in the public space of a large modern building next to a Shake Shack. It also features a lot of Japanese vendors selling antiques from buying trips to America and Europe. It was a slow start, to be sure, but eventually i did find a handful of quality dealers selling Japanese wares including NOS daruma dolls and old photo albums. I walked into one space to look at a few boro kimonos and the vendor pulled out his phone, opened it to Instagram and showed me a photo of myself! His dad had alerted him that I would be stopping by. I picked out two fantastic pieces and got a great price on them too. Turns out, I had met him in the spring and even posted pictures of his kimonos. You can follow his shop on Instagram; @tera_kura.
Heiwajima ANTIQUEs Fair
After a slightly less successful week in Kyoto, I decided to adjust my flight home so that I could attend one more market in Tokyo. A military serviceman stationed in Japan told me that the Heiwajima Antiques Fair would be worth the visit. Its held only a few times per year and typically runs Friday, Saturday and Sunday. By the time I managed to find the location around 8am there were already about 25-30 people in line; doors opened at 9am. This indoor market was not as large as I had expected but the quality was all very high. Right off the bat, I made a dumb fleamarket mistake. I thumbed through an outstanding military photo album on my first loop through but didn't buy it so of course it had sold when I made it back around. Luckily, towards the end of the market I was able to find two albums with photos from the invasion of China in the 1930's. So that kinda made up for it? After 6 or 7 rounds, I had my hands full and was ready to head out, but first I had to track down a friend of a book dealer I knew from Washington, DC. He knew we were both going to be at the market and arranged a meeting. She and her husband were on a months long trip around the world and were shopping as they went. We shared a bag of black sesame seed flavored sweet bread from the local 7-11 and traded buying trip stories.
My flight left a few hours later so I had to hightail it back to the hotel, buy a new suitcase, pack up and head home!